10 Must See Places On Your Second Visit To Rome
Planning a trip to Rome can feel overwhelming, especially if it is your second trip having rushed the first. Too many things to see, too little time. If you're trying to figure out which attractions not to miss out on, here's some help.
10 Must-See Places in Rome
1. Piazza Venezia | Altare della Patria
In 1878 the Italian Parliament dedicated a monument to King Vittorio Emanuele II. The original plan called for travertine marble, but the monument was made of Botticino marble, which was more easily shaped.
Although it is not particularly a favorite of residents, it's nevertheless a prominent attraction in the city. When you are here, don't miss the elevator that takes you all the way to the top. You'll be treated to a jaw-dropping view of the city. More details here.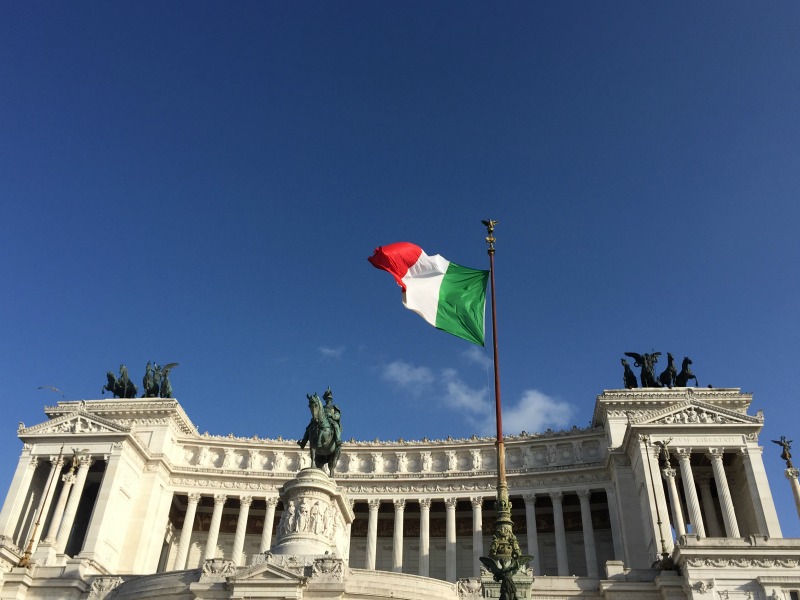 Tip: Just a few minutes walk is Palazzo Doria Pamphilj situated on Via del Corso. Its modest facade often means visitors just walk right past it. What a mistake! The opulent rooms of this private museums are dazzling and it's likely you will have them all to yourself.
2. St. Peter's Basilica | Vatican Museums
Together with Colosseum, the Vatican Museums and St. Peter's Basilica, are high on the list of places to see when in Rome. Though a state of its own, it's situated within Rome.
Advertisement

St. Peter's Basilica
According to tradition, St. Peter's Basilica sits on the site where the apostle Peter was buried, and it was here in 320AD that emperor Constantine built the primitive Basilica.
The Basilica as it is today was consecrated in 1626 by Pope Urban VIII. And finally, between 1656–1665, Gian Lorenzo Bernini completed the square in front of the church, building the spectacular colonnade.
Opening hours: Daily between 7am-6.30pm (7pm in summer). Check website for more details.
Tip:If you don't have a fear of heights or closed spaces, make your way up to the Cupola. You can take the elevator up to the terrace before tackling 320 steps on foot and the ticket costs €8. Or if you are up for it, go on foot (551 steps). The ticket costs €6. Details here.
Vatican Museums
A collection of sculptures by Pope Julius II (1503-1513) formed the first nucleus of the Vatican Museums and was exhibited in what was the "Courtyard of Statues", today the Octagonal Courtyard. Today, it houses some of the world's most extensive art collections and of course, you can't miss the Sistine Chapel.
This is another visit where we would recommend going with a tour guide. If possible, join a tour that gets you in before the crowds or after closing hours. It makes a world of difference as you'll get to enjoy the Vatican Museums and the Sistine Chapel in a serene setting versus being in the middle of a sea of people.
A few years ago, thanks to The Roman Guy, we visited the Vatican Museums and the Sistine Chapel after closing hours. It was a once in a lifetime experience as we had the Sistine Chapel all to ourselves.
Should you decide to go on your own, skip the lines and book your tickets online ahead of time for the Vatican Museums. The lines can be extremely long and honestly, you don't want to waste a few hours just standing in line, especially if you are only in Rome for a few days. We'd also recommend you rent an audio guide.
3. Campo de' Fiori
Once the site of public executions, the most renowned execution is that of Giordano Bruno that took place in 1600. Today his statue looms in the middle of the piazza, overlooking a lively open-air market during the day and a hub for nightlife. If you look around, you might find that something is missing here. This is the only piazza without a church.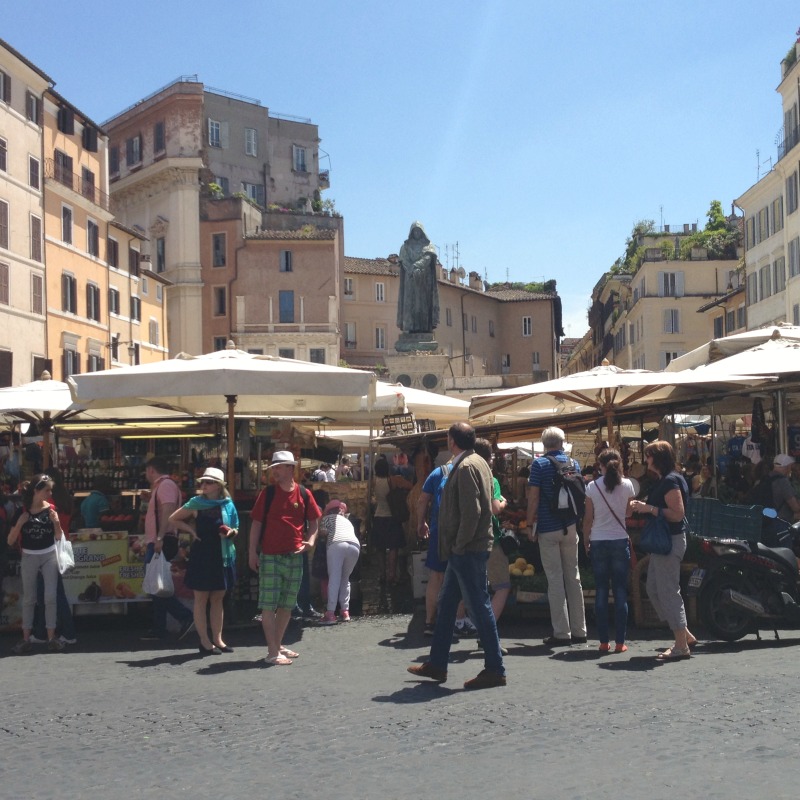 4. Piazza del Popolo | Basilica di Santa Maria del Popolo
Piazza del Popolo
Conceived in the 17th century as a monumental entrance to the city for pilgrims coming from the north, along the Via Flaminia, this square owes its development project to architect Giuseppe Valadier.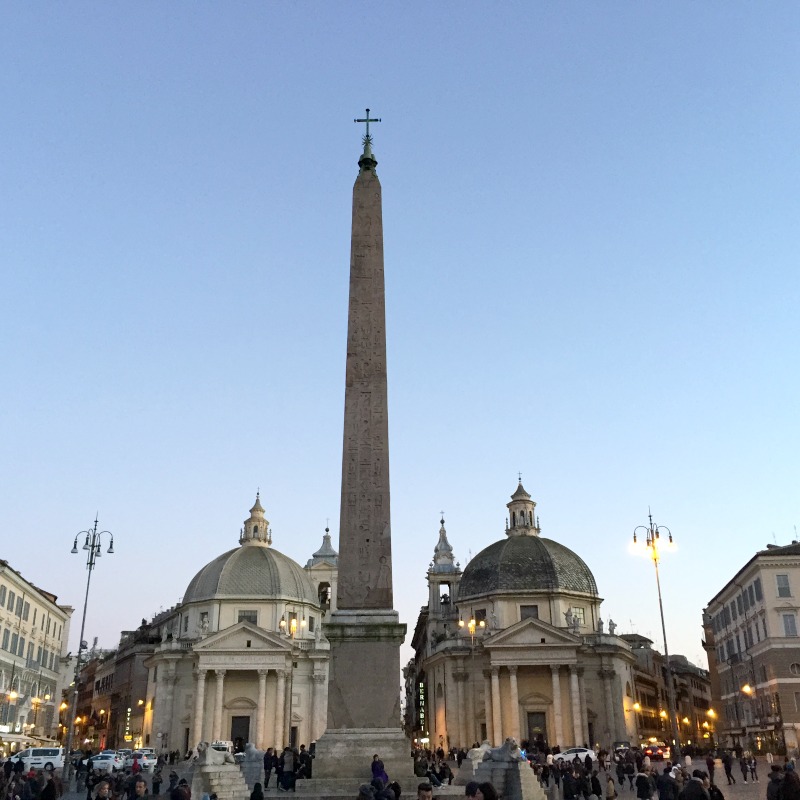 Work began in 1793 and was completed in the second decade of the 19th century. The design of the square included two exedrae adorned with statues and fountains on either side, and four baths with marble lions at the base of the Egyptian obelisk (the oldest after the Lateran).
Basilica di Santa Maria del Popolo
Santa Maria del Popolo is one of the most important buildings of the Roman Renaissance, not only for its architectural features, but also for the paintings and sculptures that it holds. You'll find masterpieces by Caravaggio and the Chigi Chapel was built by Raphael. And you don't have to pay to see these incredible works of art.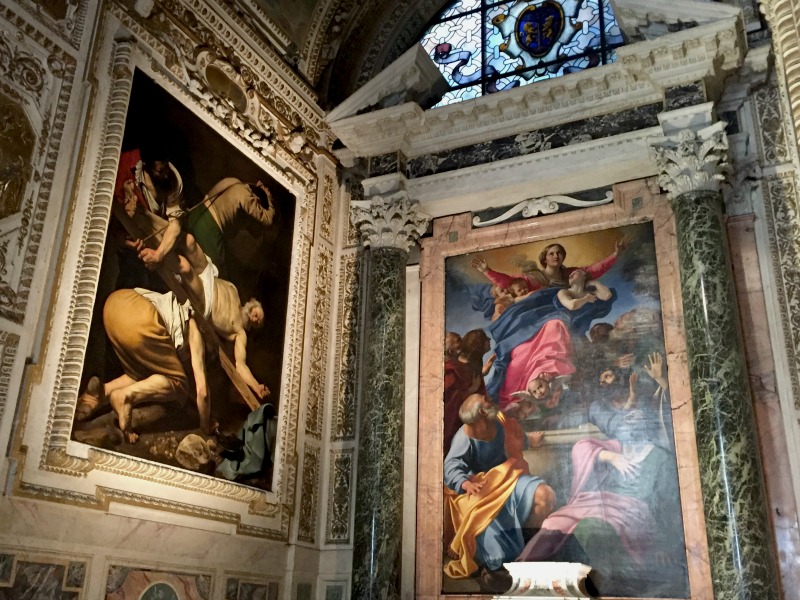 5. Villa Borghese | Galleria Borghese | Pincio Terrace
Want some quiet time in the city? Villa Borghese, a lush and tranquil park in the heart of Rome situated close to Piazza del Popolo, covers an area of 80 hectares (148 acres). Here you'll find Galleria Borghese, one of our favorite museums, as well as an artificial lake and 18th century neoclassical temples.
Galleria Borghese
The gallery houses sculptures, reliefs and ancient mosaics, as well as paintings and sculptures from the 15th to the 18th centuries. The collection, initially established by Cardinal Scipione Borghese in the early 17th century, preserves masterpieces by Antonello da Messina, Giovanni Bellini, Raphael, Titian, Correggio, Caravaggio and beautiful sculptures by Gian Lorenzo Bernini and Canova. The portrait of Pauline Bonaparte, executed by Canova between 1805 and 1808, has been in the Villa since 1838.
Advertisement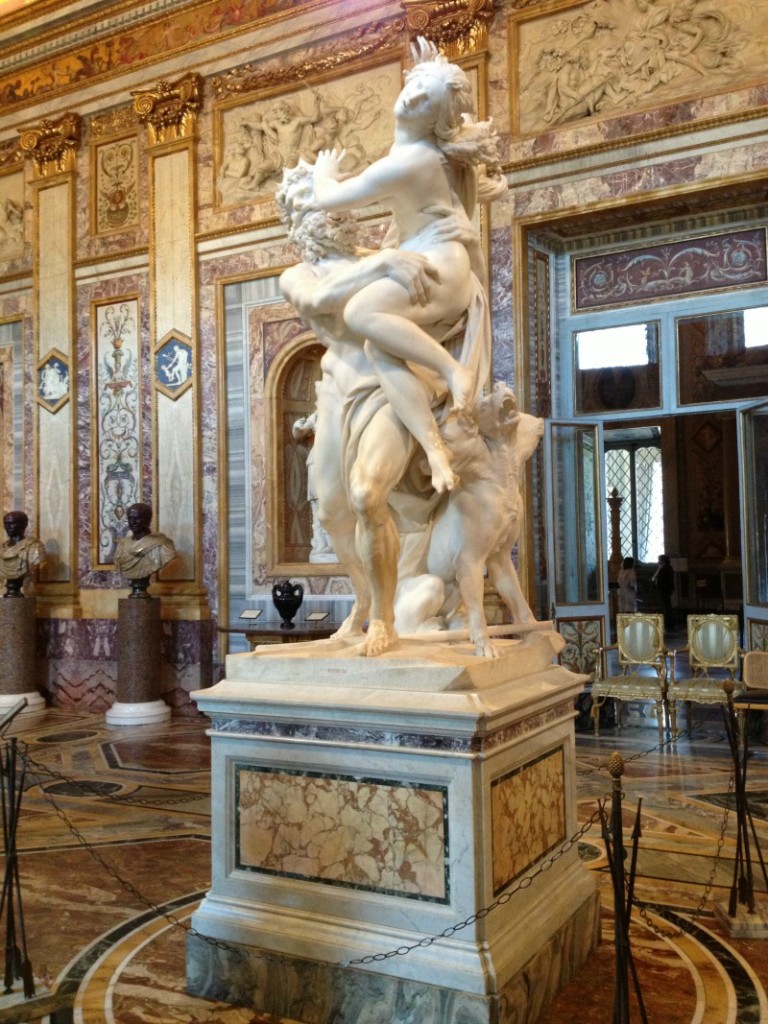 If you plan to visit, book at least a week in advance. Admission is limited to a two-hour visit and at the end of two hours, you will need to leave the Museum.
Prices: Adult € 15 (includes booking fee) and for the full ticket and guided tour costs €21.50. In November the full ticket will be replaced by a Special Reduction ticket €10 and the full ticket and guide tour costs €16.50.
Opening hours: Tuesday – Sunday 9am-7pm (access every 2 hours, last entrance 5pm). Closed Monday. Check website for more details.
Tel: 0632810 (bookings – Monday-Friday 9am-6pm, Saturday 9am-1pm)
Pincio Terrace
The Pincian Terrace, designed by architect Giovanni Valadier in 1816, dominates Piazza del Popolo from above. Such a prime spot overlooking the city, Valadier even built himself a residence on the square – the Casina Valadier – today an elegant restaurant.
Head to Pincio terrace during sunset. They are often spectacular and a perfect way to end a day in Rome.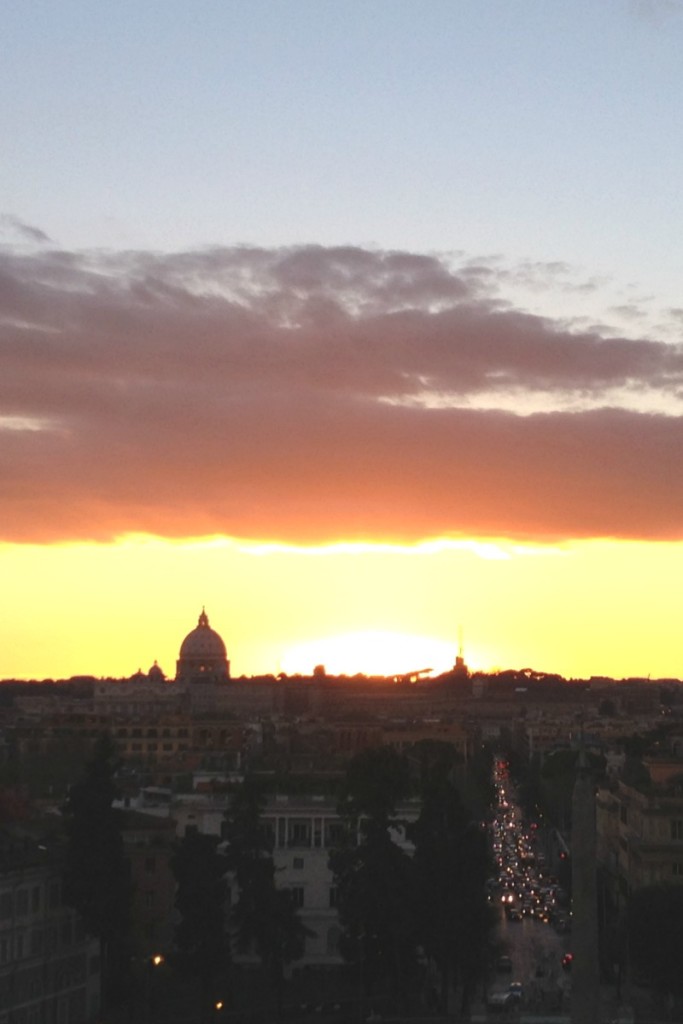 6. Former Jewish Ghetto
A bustling neighborhood, the former Jewish Ghetto still holds strong to its Jewish culture and is home to the Jewish Museum and the Synagogue.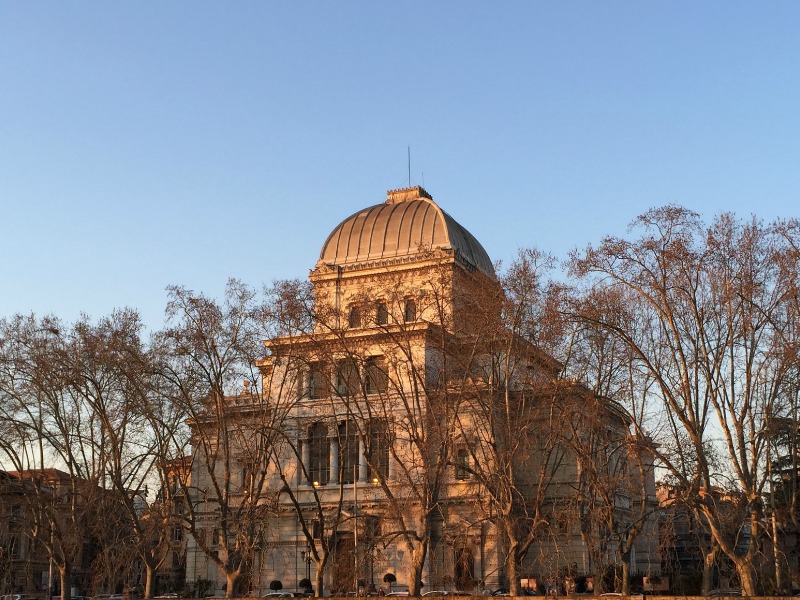 Here streets are lined with shops and restaurants offering some delicious dishes that reflect the unique Roman-Jewish cuisine, such as carciofi alla giudia (deep fried artichokes) and pizza ebraica, which is nothing like pizza at all, but rather a sweet dense cake filled with candied fruits, almonds, raisins, and pine nuts.
Note: To visit the Jewish Museum, reservations are required (Fee: €11). The guided tour lasts an hour and includes a visit to The Museum, The Great Synagogue, and The Spanish Synagogue
7. Basilica di San Giovanni in Laterano
The Basilica of San Giovanni in Laterano is cathedral church of Rome, and considered the Mother Church of all Roman Catholic churches Yes, it's even more important than St. Peter's Basilica.
Repeatedly damaged and restored, the basilica was continuously enriched through the centuries: the cloister – a Cosmatesque masterpiece, retains architectural elements, sculptures and ornaments of the ancient basilica.
Tip: Also visit the Baptistery that is situated some what apart from the Basilica itself.
8. Trastevere | Basilica di Santa Maria in Trastevere
Literally meaning over the Tevere, this neighborhood exudes charm. Just aimlessly walk through the streets of Trastevere is fun in itself. You're likely to come across laundry hanging between the buildings and lush hidden corners. Known for its vibrant nightlife, it's the place to be for residents and visitors alike.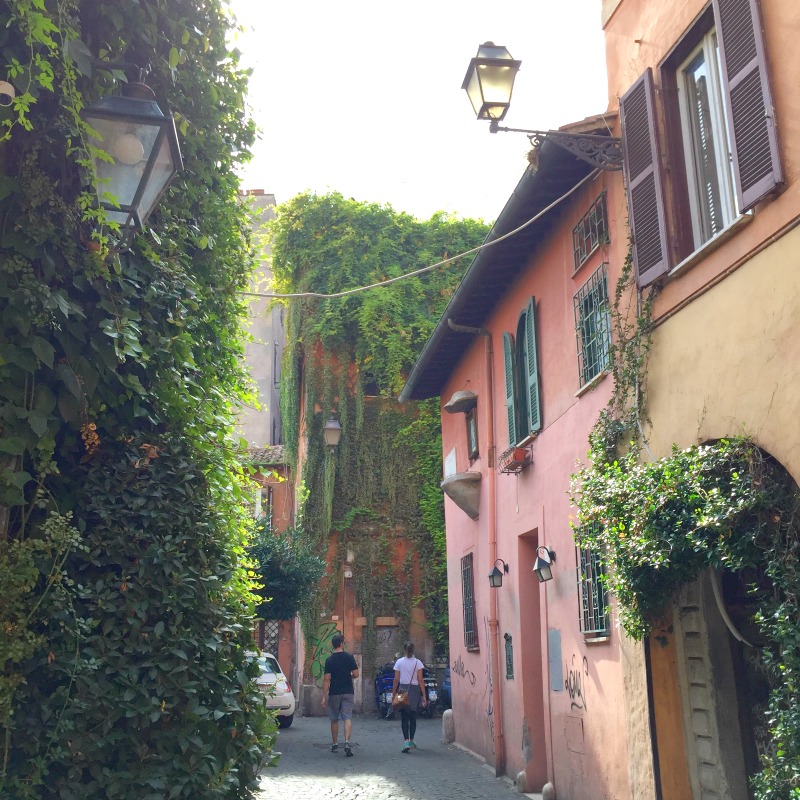 Basilica di Santa Maria in Trastevere
If you love mosaics, stop at Basilica di Santa Maria in Trastevere. While many parts of the church date back to the 12th century such as the dazzling mosaics, legend has it that this basilica was built by Pope Callistus I, in the 3rd century AD.
Opening hours: Daily 7.30am-9pm (August: daily 8am-12pm / 4pm-9pm). Visits are not allowed during Masses. Check website for more details.
9. Castel Sant'Angelo
The mausoleum was finished in 139AD, one year after the death of Emperor Hadrian (117-138 AD). Formed by a square base and a circular construction, it constitutes the lower part of Castel Sant'Angelo. The burial chamber is located in the very centre of the mausoleum and in the 14th century, it was converted into a castle by the popes.
The view from the top of Castel Sant'Angelo is fabulous, to say the least. Here's the website for more details on how to visit.
Advertisement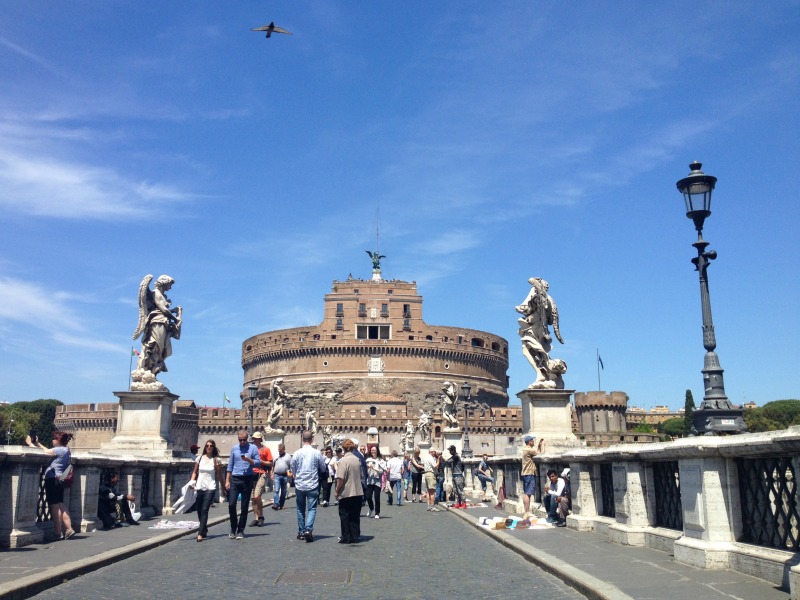 10. Giardino degli Aranci | Basilica of Santa Sabina | Knights of Malta Keyhole
Giardino degli Aranci
In the 14th century the Savelli family built their castle on the Aventine, turning the hill into an impregnable fortress. Thick Medieval walls encircle what is today Savelli Park, built in 1932 by architect Raffaele De Vico.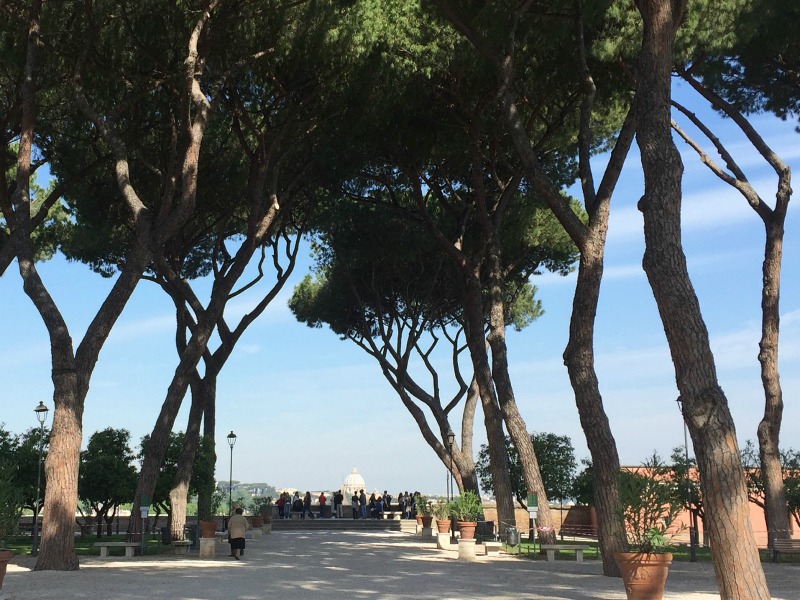 It is also known as the Orange Garden taking its name from the trees planted here in memory of St. Dominic, who founded his monastery here. From this small rectangular viewpoint overlooking the Tiber, one can admire Rome and St. Peter's Basilica.
Opening hours: From 7am until sunset. Here's the website for more details.
Advertisement

Basilica of Santa Sabina
Just a few minutes walk from Giardino degli Aranci is Basilica of Santa Sabina, probably built inside the structure of an ancient house of a Sabine matriarch (lat. titulus Sabinae). In 1222, Pope Honorius III donated it to San Domenico for his Order and it was on that occasion that the bell tower and cloister were added.
This is another place that is little know, and you'll be one of the few inside.
Opening Hours: Daily 8.15am-12.30pm/3.30pm-6pm. Visits are not permitted during Mass. More details on the website.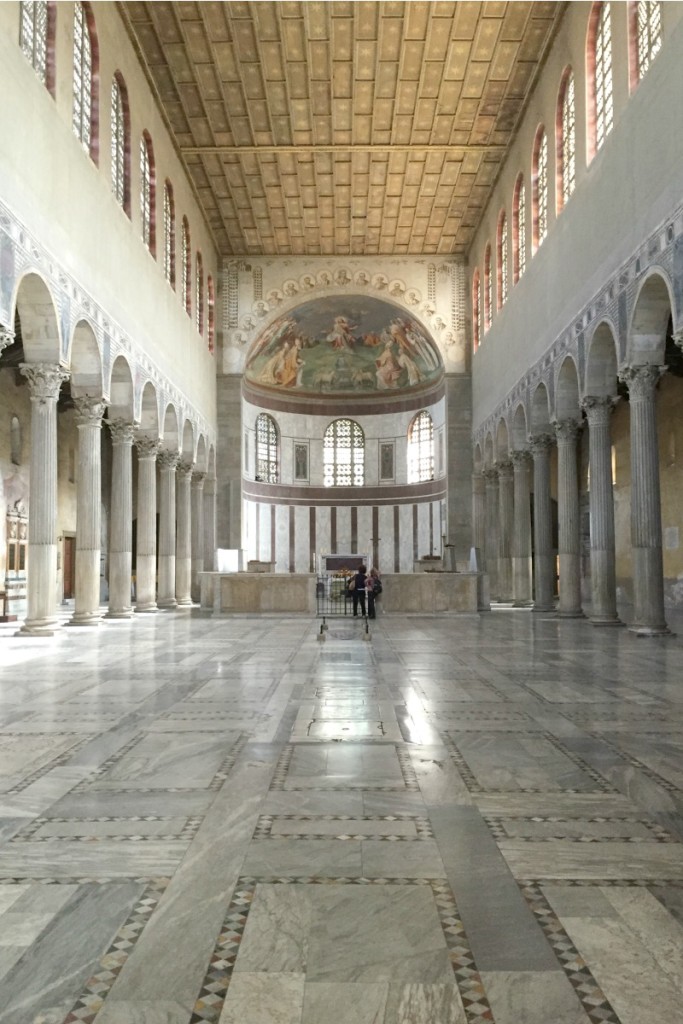 back to top