What to do and see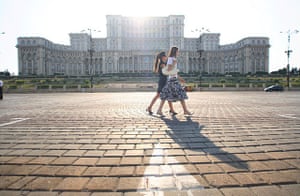 Bucharest's old town was mercifully untouched by second world war bombs and Ceauşescu's bulldozers and is the city's most charismatic neighborhood. Although much of the area remains agreeably tatty, a massive regeneration project has transformed many of its hitherto grubby-looking streets and buildings, the most spectacular example being the new Cărtureşti Carusel bookshop (carturesticarusel.ro) on strada Lipscani. The pint-sized Stavropoleos Church, with ornate carvings in stone and wood both inside and out, is another architectural must-see.
Whether you consider it a thing of beauty or (more likely) brute ugly, the Palace of Parliament (aka the People's House,cdep.ro) is indisputably jaw-dropping. Constructed at Ceauşescu's behest, its scale and opulence are head-spinning: 12 storeys (including four underground levels, one a nuclear bunker), 1,100 rooms, 4,500 chandeliers, and so on – although apparently not even 700 architects could satisfy Ceauşescu's, or rather his wife's, ever-changing whims. Guided tours (£5) take in a dozen or so of the largest and most extravagant rooms and conclude on the balconied terrace, affording fabulous views down bulevardul Unirii.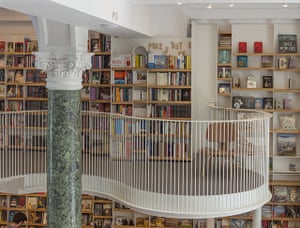 For more Ceauşescu-linked culture, head to the piata Revolutiei and check out the pockmarked buildings. The square was the focal point of fighting during the 1989 revolution, which led to the end of the dictator's regime.
The National Village Museum (adults £2, seniors £1, children 50p, muzeul-satului.ro) is on the shores of lake Herăstrău and exhibits vernacular architecture from all over Romania. Comprising some 300 dwellings – churches, workshops, windmills and so on – there's much ground to cover, so keep a keen eye out for the ingenious dug-out (or "pit") homes from Oltenia and the iconic wooden churches from Maramureş in northern Romania.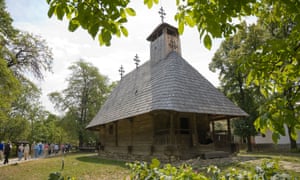 Take a stroll around Cişmigiu Gardens, the oldest and largest park in central Bucharest. It's a welcome dollop of green space in the city and there's a boating lake for would-be rowers.
For a break from the noise of downtown, make your way to the enchanting Mogoşoaia Palace (entry £1, palatebrancovenesti.ro), which is about 10km north-west of the center. Designed by the 17th-century ruler of the Wallachia region, Constantin Brâncoveanu (who occasionally resided here), it's a red-brick structure typical of the region, and the interior retains some lovely detail, not least dazzling Venetian mosaic flooring and carved wooden doors. After, it's worth taking a walk around the grounds and woods.


Advertisement