All hotels are available through hotels.com click on the links for more details.
THE NORTH

La Pelosa beach, near Stintino, northern Sardinia. Photograph: Alamy


Across the north from the Costa Smeralda, Alghero is the choice of ordinary Italian families. The city's beaches are a little gritty and noisy, but to the north, near the surprisingly appealing fascist-era town of Fertilia, Lazzaretto and Bombarde beaches offer kayaks and windsurfing for those who want them, plus expanses of silvery sand. Bombarde does have an ugly hotel at one end, but turn left and it grows quite wild, with low rocks enclosing little sandy "rooms". For a romantic evening, park at Baratz lake, 10km to the north, and walk through woods (or drive in a 4WD) to wild, golden, west-facing Porto Ferro beach.
The area's famous beach is La Pelosa, at the northern tip, but its white sand perfection and proximity to the Porto Torres ferry terminal mean it gets busy, and parking is expensive. The nearby town of Stintino, however, is a delight, squeezed between two harbors; south of it, follow signposts to several fine shingle beaches, including one called Coscia di Donna (Lady's Thigh).


Where to eat
Family owned restaurant Il Paguro (via Zara 13, +39 079 930260) sits on a residential street in Fertilia. Its seafood spaghetti (€16) is excellent, and a starter of "roasted Sardinian pecorino" (€4) is a wicked bowl of runny cheese, with flatbread hot from the pizza oven.


Where to stay
THE EAST
South from Olbia you are soon in mountains. After Orosei, the coast is so steep that beach access becomes an issue – unless you take to the water. Every morning from the town of Cala Gonone, boats depart for the beaches around the gulf, including Cala Goloritzé, one of Lonely Planet's top 10 beaches in Europe. Returns cost €10-€28pp though, and run to strict timetables: a fun alternative is to hire an inflatable (gommone) with outboard motor (from €80 a day, max 12 people) and cove-hop at will.
South again is the Costa Rei, an area said to rival the Costa Smeralda for beauty, but which beats it for unspoiled charm. Just to the north is one of my favorite beaches – wide Colostrai, backed by a nature reserve, with golden sand sloping into water kept warm by a sandbar just offshore.
It was near here that we found our private paradise. Just before Capo Ferrato village on the SP97, red-and-white panels mark a footpath between an olive grove and a wheatfield, leading to the multi-hued sea and white sand of Porto Pirastu. Seaweed washes ashore at its northern end, but we turned right over some rocks and had the fine beach, with views down the whole Costa Rei, to ourselves on a July afternoon.


Where to eat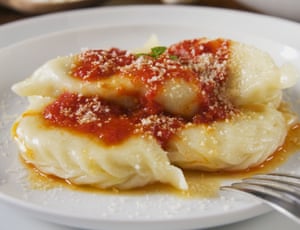 Feast on excellent culurgiones (Sardinian ravioli) with cured tuna roe at Sa Serbidora in Arbatax town (Piazza Sindaco Porrà 5, +39 328 337 4338). Carnivores will love the typical cena sarda at Torre Salinas' on-site restaurant: a ham, salami and cheese antipasto, followed by speciality pasta, wood-roast suckling pig and/or braised goat, and a seadas pastry costs €30 a head with wine, coffee and liqueur.


Where to stay