Norcia: A Charming Little Place in Umbria
Norcia is a charming little town situated on the edge of a large upland plain on the boundary line between Umbria and Le Marche region.
Advertisement

Because of its position, Norcia played an important role in the commercial exchanges between the center of Italy and the Adriatic coast during the Roman times.
This town has another long-standing fame: it is the birthplace of the art of pork processing. The Italian word Norcino, the butcher that specializes in charchuterie (norcineria), comes from Norcia.
According to some sources, from the beginning of human civilization in Umbria, the area was covered by forests of oak trees whose fruit, the acorn, has always been one of the favourite food for pigs, and in turn gives a very special taste to their meat. During the Middle Ages Norcia's butchers were renowned throughout Italy as well as in Europe.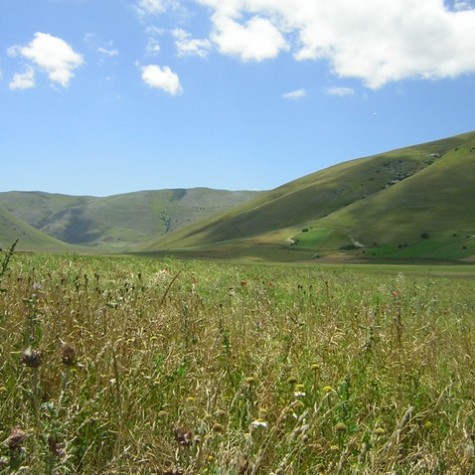 Piano di Castelluccio, a few kilometres from Norcia. Photo credit: DiscoveringUmbria.it
Norcia: The secrets of Umbrian charcuterie
taly is so rich in local specialities and recipes, an immense heritage that we need to keep alive for us and for future generations.
The secrets of Umbrian pork products stay true to this local heritage by the careful selection and cutting of the meat in Norcino's wise hands. The filling of sausages, salami and other cold cuts is one of the most important steps in the process together with the binding, which are still done by hand for many kinds of salami.
For prosciutto, the salting is another moment when skills and tradition make the difference. It is also hand-made using a mixture of salt and spices, especially pepper, that gives Umbrian cold cuts a unique flavor.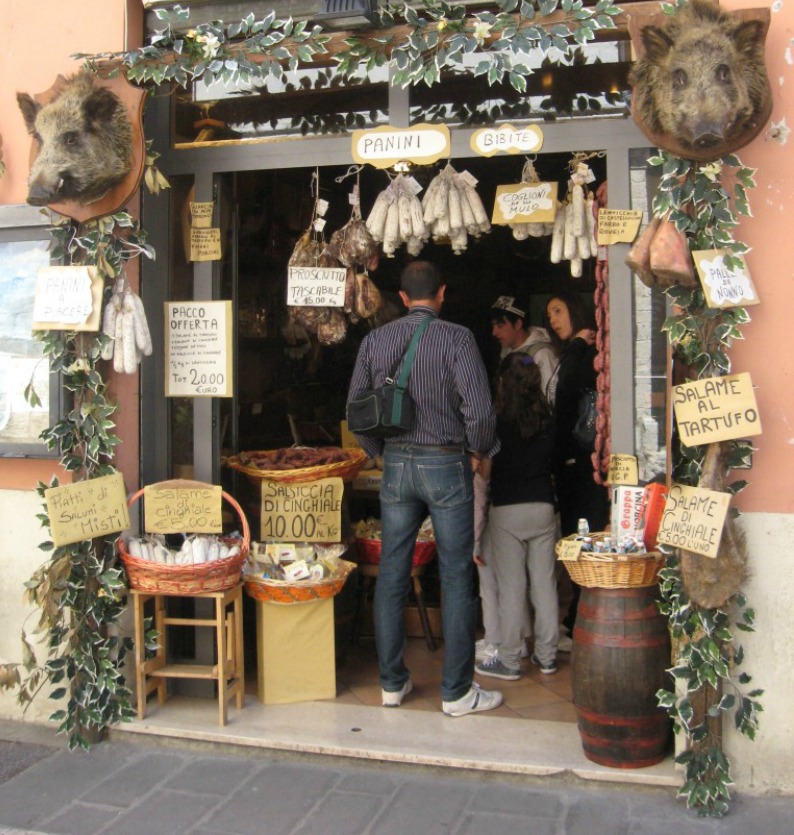 Vocabulary
The importance of this ancient art is not only evident in the different kinds of cold cuts but also in the different words used to name each speciality.
The following are some very basic vocabulary just to make the most of your unforgettable journey in Umbrian pork tradition.
Capocollo: Cylinder-shaped meat, very tasty. It is characterized by the "marbling" of the meat. When cut it is reddish veined with fat. It is typical for Easter together with the traditional Easter Cheese Bread.
Coppa: This product has deep roots in the region and it was a way to use the remaining parts of the pig. It is prepared with pig's head skin that is boiled and seasoned by adding orange zests. It's the famous headcheese.
Guanciale: Pork jowls salted with the pigskin attached and then seasoned with garlic, salt and pepper. It can be eaten by itself or used as a seasoning in the kitchen like in the famous authentic Italian pasta alla Carbonara .

Related: Eremito Hotel Umbria
Lardo: Compact layer of white fat attached to the pigskin, lardo is cut in large square or rectangular chunks and seasoned. It is commonly offered as a special treat on top of a slice of toast bread during wine tasting, paired especially with red full bodied wines from Umbria.
Mazzafegate: Salty liver sausages cured with salt and pepper as well as with other ingredients like orange zests.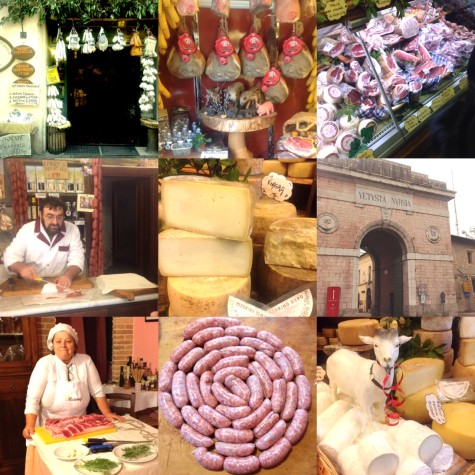 Salsicce: In Umbria sausages are cylindrical and small. They can be immediately grilled or dried for at least 20 days becoming "secche", dried, a typical local snack.
Sfriccioli: Also known in other parts of the region as "friccioli". They are the small pieces that remain when the fat is rendered. They are used to make excellent traditional flat breads.
Strutto: The soft fat is melt down, filtered and stored in bladders or glass or terra cotta containers and kept in a cool place. In the past this type of fat was used mainly for frying, and today for curing the traditional roast lamb together with rosemary and garlic.


Recommended Place To Stay in Norcia, Umbria
back to top