Chianti Classico Wine Routes in Tuscany: The Top 8
The key to the unique qualities of chianti classico is the local sangiovese grape, today there is movement back to the ancient traditions of winemaking.
Advertisement

WINEMAKERS TO VISIT
Val delle Corti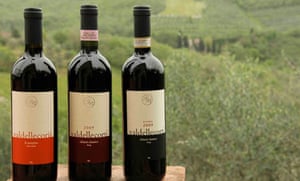 The perfect first step to understanding the complex world of chianti classico is to make an appointment for a tasting at Roberto Bianchi's six-hectare organic vineyard. Roberto is a feisty artisan viticoltore, explaining how for years winemakers were too influenced by guidebooks and gurus, who argued that the austere sangiovese grape needed to be offset by a small addition of "international grapes", such as merlot and cabernet sauvignon, to sell to a global market.
"At that time," says Roberto, "our authentic wines were totally out of favor but the fashion has turned, and people are beginning to understand that what is interesting here is that each village – Radda to Panzano, Greve to Gaiole – has its own characteristics and personality." Roberto only produces three wines, a great vino di tavola for €6, perfect with a plate of salami, an elegant chianti classico that is almost 100% sangiovese, and an intense riserva in the years he feels the harvest is outstanding.
•Localita La Croce, Radda in Chianti, +39 0577 738215, valdellecorti.it


Villa Pomona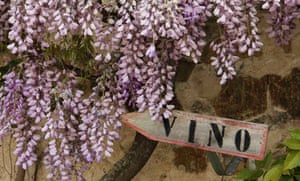 Visiting Monica Raspi you quickly get caught up in her enthusiasm for making chianti classicos. Villa Pomona is a typical Tuscan estate, the perfect mix of biodiversity, with four hectares of vineyards, olive groves and woodland, a sprawling farm that includes an old olive mill converted into holiday apartments and her tiny, cluttered cantina crammed with wooden barrels and stainless-steel vats. Monica was born at Villa Pomona, but grew up in Florence and trained as a vet.
However, as soon as she heard he mother was going to sell the vineyards, she abandoned her career, did a crash course in oenology, and has been producing her own wines since 2007. The vines are in the process of obtaining official organic certification. She follows the traditionalist approach, adding the local colorino grape to 95% sangiovese for her €10 chianti classico, while the riserva is aged for 20 months in barrels plus another six months in the bottle before going on sale.
•Localita Pomona, Castellina in Chianti, +39 055 7774 0930, fattoriapomona.it

Related: Pisa and Lucca The Real Gems of Italy
Fontodi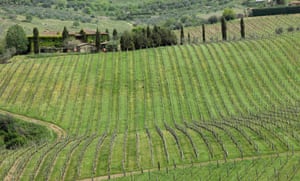 Fontodi is the exception to the rule that says big wineries charge for tastings, with owner Giovanni Manetti insisting that this is just part of Tuscan hospitality, saying that "even if people stay two hours they don't have to feel they must buy a bottle". And he has certainly created something special here, nestled in the suntrap of the Conca d'Oro beneath the village of Panzano. The whole farm is organic: the 80 hectares of vines and 30 hectares of olive trees. Between lines of vines he plants barley, to help the cultivation of the grape and to feed his herd of 33 Chianina cattle, the iconic local race that is fast disappearing. He follows biodynamic principles in making his wine, and is currently trying an experiment going back to Greco-Roman times, using terracotta vats rather than wooden barrels.
• Panzano in Chianti, +39 055 852005, fontodi.com


OSTERIE AND RESTAURANTS
A Casa Mia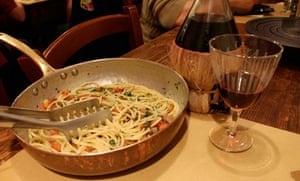 A Casa Mia is a brilliant discovery, a genuine old-fashioned osteria with just a dozen tables, hearty portions of Tuscan cucina casalinga (home cooking) at reasonable prices, and run by two lively hosts, Cosimo and Maurizio Simoncini who share the cooking and serving. The place is packed each night, so always call for a reservation, and although there is a printed menu, let Maurizio reel off the dishes of the day and get caught up in his enthusiasm.
The huge antipasti dish is a meal in itself, with panzanella, grilled vegetables, a delicious warm tripe salad, bruschette with plump chopped tomatoes and white beans drizzled with olive oil. Follow it with penne con coniglio (rabbit pasta) or asparagus risotto, alongside a €10 straw-covered flask of chianti.
•Via Santa Maria a Macerata, Montefiridolfi, +39 055 824 4392, acasamia.eu. Pastas €12, mains €12-15


Fattoria di Corsignano
While Tuscany has plenty of chic, gourmet restaurants, it can be surprisingly difficult to track down a reasonably-priced trattoria serving authentic cooking. So when a new restaurant like the Fattoria di Corsignano opens up, it is good news for locals and tourists alike. Elena Gallo serves a creative interpretation of rustic cucina contadino. For wine-lovers, the good news is that the estate's excellent wines are sold at the same price as if you were taking away, while for €35 there is a four-course wine-paired tasting menu.
Even the €10 antipasto is almost a meal in itself, with panzanella salad, smoked ham, bruschettas of grilled zucchini and ricotta with red pepper, a crunchy barley cake and fried bacon with prunes. The Fattoria has elegant B&B rooms available from €90, and Elena's husband, Mario, has planted a small seven-hectare organic vineyard, producing not just a potent chianti classico riserva, made from 100% sangiovese grapes, but a light Vino da Tavola at only €6, which he describes as "old-style Chianti like my babbo (dad) used to make".
•Localita Consignano, Castelnuovo Berardenga, +39 0577 322545, fattoriadicorsignano.it
VINEYARD AGRITURISMI
Rignana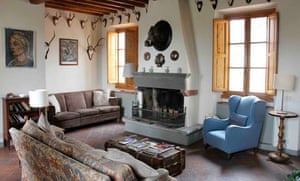 It is a dusty, bumpy four kilometres off the main road to get to Rignana, the romantic estate of Cosimo Gericke, situated between Panzano and Greve. His agriturismo comprises a medieval chapel, villa, farmhouse and cantina. An olive mill has been converted into a trattoria and there is an infinity pool – a perfect spot for sipping a chilled glass of the winery's crisp, fresh rosato. Cosimo is a charming host, half-German, half-Italian, resembling an eccentric Victorian aristocrat. But he is serious about his wines, having replanted his 13-hectare vineyard when he took over in 1999. Most B&B rooms are in the farmhouse, which has a communal kitchen, but it can be worth splashing out a little extra to stay in the villa, which is decorated with 18th-century frescoes.
•Localita Rignana, Via di Rignana, 15, Greve in Chianti, +39 055 852065, rignana.it. Doubles €100 (in the farm), €130 in the villa (both B&B).


Fattoria La Loggia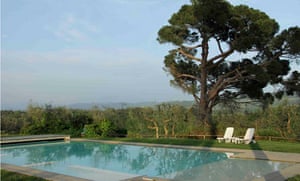 It is impossible to miss the Loggia, as high above this agriturismo is an incredible suspended garden of giant floating terracotta vases. This fattoria produces wine and olive oil, but the real passion of the owner, Giulio Baruffaldi, is contemporary art. He was one of the pioneers of welcoming tourists to wineries in Chianti – opening the agriturismo in 1986 – and has always had a programme to invite artists and run art courses. Over the years he has amassed a fantastic collection that decorate guests bedrooms, communal salons and are installed all over the gardens of the farmhouse.
The rooms here are spacious and luxurious for the price, there is a pool, and barbecue, and the friendly director, Ivana Natali, who has been here for 25 years, is a mine of information when it comes to recommending winemakers to visit. The winery produce a surprising bianco toscano at only €3, while the 2003 chianti classico is a steal at €7.
•Via Collina 24, San Casciano in Val di Pesa, +39 055 824 4288, fattorialaloggia.com. Doubles from €100 B&B


Fattoria di Lamole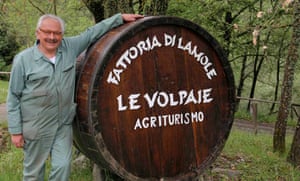 Paolo Socci is one of the most passionate viticoltore in chianti classico, and this extends not just to exceptional traditionalist wines, but his restoration of a medieval hamlet into a rustic agriturismo – and a commitment to rebuild stone terraces for his vineyard, a system dating back centuries but that has all but disappeared. Guests staying the night are made to feel like part of a big family, and have the use of a pool, large communal areas, and comfy rooms with wooden-timbered ceilings, plus a hearty breakfast. The cantina and agriturismo are situated in Lamole, one of the most beautiful villages in Chianti. Book a time for a proper wine tasting with Paolo and he may well take you off in his jeep to see some of the seven kilometers of terrazze he has painstakingly built.
•Lamole, Greve in Chianti, +39 055 854 7065, fattoriadilamole.it. Doubles €90 B&B
Recommended Place To Stay
back to top